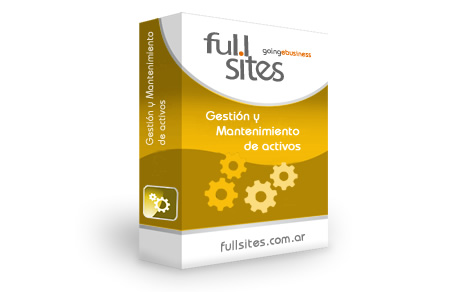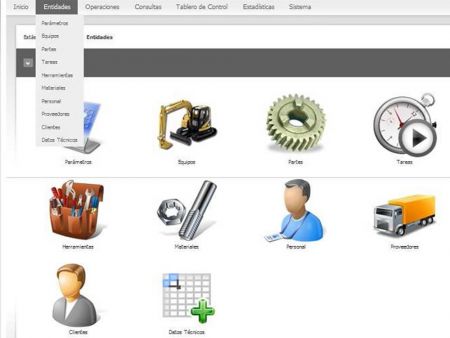 fullsites asset management main window.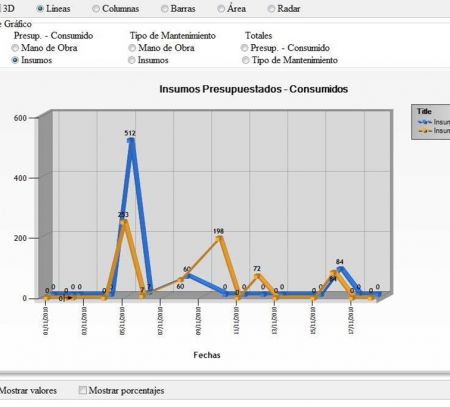 One of the many reports provided by the application; in this case in a chart view. You can configure your reports according to your business needs by adding or removing indicators.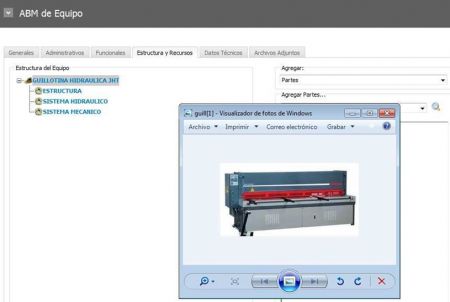 Create, edit or delete assets. You can easily manage all your business assets.
Brief explanation of how to configure a preventive program in the application. The Technical administrative information is very simple and does not require advanced knowledge to use it (video in spanish).
Brief explanation of how to manage the stock of materials in the application. The management of materials is very simple and the applicatio can storeall the information your company needs, as also genertate custom made reports.(video in spanish)
You can add or remove variables, combine data and export data to a spreadsheet.(video in spanish)

Efficiently manage your complete business infrastructure and materials. Improve your maintenance processes.

Our Asset Management software allows your business to have more control of costs. You can compare the deviations from the planned maintenance cost and what actually consumed in each service, by equipment type, by area, by sector and other custom variables.

Forget about personal improvisations and emergency purchases of parts and materials; reduce the unplanned equipment downtime and improve overall performance of the equipment.

With our Asset Management application you can plan on a daily work schedule all tasks scheduled for each equipment, whether preventive events, corrective events, 1sl level TPM 1st and repair requests.

Perform a continuous improvement using a powerful statistical failures analysis, costs, budgets, requirements, productivity indicators, hours worked by staff, deviation analysis, quality grade, cube-making, repair history and many other reports.

Our Asset Management application fits any type of business:


Features
Using this tool you can:
Have an updated equipment inventory.
Control all maintenance costs.
Know how much you spend on maintenance, when and why.
Check the services of outside vendors.
Determine which are the causes of critical equipment failure.
Keep track of stock for most expensive and critical materials.
Control Real vs Expected cost consumption.
Control programmed equipment stops.
Decrease purchases costs due having a better maintenance forecast.
Have more information about those equipments that consume maintenance services.
Consolidate the information by sector, by equipment type, by task type.
Have a uniform policy for maintenance in all your plants.
Have a decisions cube report / generate pivot table reports / statistics.
Analyze your maintenance budget, by category of materials, by supplier and many more filters.
Check the plan deviations with respect to consumption.
Use the same software for other business areas (logistics, technology, technical support, etc.).
Main Features
These are some of the functionality of the software:
Work with major database engines.
Operate under Windows server operating system.
Rapid deployment and implementation.
Single screen graphical environment that make it much more user friendly and easy to use.
Powerful and dynamic management tool statistic: Decision Cube, generating reports and custom reports.
Ability to associate data and image files to each equipment, staff, party, task, replacement, repair and application Input.
Technical Data Sheet generated by the user for each type of equipment.
Productivity Indicators, equipment staging, MTTR - MTBF, Availability, repair requests, 1st. Level TPM, among others.
Supplier's management.
Control and Warehouse Management, Stock Materials, Costs, Statistics.
Other Features:
- Materials and equipment parts traceability.
- Staff Assignments, Control, Management, Man Hours, Payroll, Expenses, etc.
Customers
More than 750 installations in major companies are using our Asset Management software, including the following:
Hotels & Resorts
Department Stores
Banks & Financial Institutions
Government agencies
Industrial metalworking, automotive, textiles, plastics
Construction Industry
Beverage, food in general, retail industries
Licenses
Your company can purchase our Asset Management software in two different licenses types:
- In House, where software is installed on a server inside your company.
- Web application where it does not require a local installation but the whole platform is used from a web client.
More Information
If you need
more information
, get a demo of this product or ask for prices and contracting method,
complete the following form
and we will get in touch with you soon.